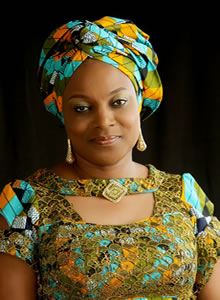 is one of Nigeriaís frontline broadcast journalists winning several awards over the years for her work in the field including the Nigeria merit media award for best newscaster of the year. One of the nationís most recognisable faces, Eugenia is also a prize winning writer. Author of two published books, In the Blink of an Eye, a collection of essays which won her the ANA/NDDC Flora Nwapa prize in 2008 for best womenís writing and the critically acclaimed Donít look at me like that, a collection of poems. Eugenia maintains weekly columns in two national dailies, , in Business day on Fridays and in The Sunday Trust.

A motivational speaker, Life coach and media strategist, Eugenia is a member of several National and International organisations giving her time and platform to various societal issues including gender disaggregation, women and communication, girl child education, rape, human trafficking, violence against women and Prison decongestion. She is a member of council of the National human rights commission, a member of the Editorial board of Thisday newspapers and a faculty member of the Africa centre for leadership and strategy. Eugenia is also a council member of the Lagos state Research and development council. She is Lead Life coach to an annual weekend retreat programme for women, W-TAB and was a member of the Vision 2020 National technical working group on media.
On the invitation of the association of Nigerians in Western Australia, Eugenia delivered the 2008 independence anniversary lecture in Perth, Western Australia. As a trainer she is constantly involved in media training for corporate organisations and International organisations and only recently concluded her term as National media consultant for the International Labour organisation, ILO. She has consulted for the United Nations fund for women, the United Nations information centre and the British council.

Eugenia believes that mentoring is the unexplored key to fast tracking Africaís human development and this has given her the drive to mentor over 40 young men and women in the last three years, impacting in them the importance of a good work ethic, communication skills, moral values, etiquette and capacity building. A guest lecturer at NTA TV College Jos for seven years, she taught broadcasting, elocution, presentation, scriptwriting and news reporting as well as voice cadence to over 200 broadcasters across channels, across Nigeria. She is currently the deputy director training at the headquarters of the Nigerian Television Authority.

Eugenia Abuís interest in Nigeriaís future generation also led her to found and lead facilitate one of Abujaís leading annual weeklong creative and literary boot camps, The Treasured Writers, TTW, for children between the ages of 7-15 years.

A 1981 graduate of English from the Ahmadu Bello University Zaria, Eugenia obtained a Masters in communication policy studies from the City University London in 1992, graduating with a distinction.

She also possesses a Graduate certificate in Education from A.B.U Zaria (1981) and has attended several top management courses across the world. Eugenia was a delegate to the fourth word womenís conference in Beijing, China in 1985 and has attended several conferences across the world. She is a two time delegate to the Going global conference on Education. (Hong Kong and the United Kingdom)

A chevening scholar, USIS fellow and world traveller, Eugenia is writing her first novel and an M.A in Creative writing from Keele University Staffordshire, is in view. In her long and rewarding career she has interviewed notable world leaders including President Obasanjo, President Sir Leaf Johnson, General Abdulsalami and President Yoweri Museveni of Uganda. Her portfolio includes literary giants like the Nobel laureate for literature, Nadine Gordimer and the United Nations secretary general, Ban Ki Moon among many others. Mrs Abu is considered one of Nigeriaís finest comperes lending her voice, skills and experience to many national and International events in the last twenty years including the inauguration ball of the late President Yaradua and the oath taking ceremony of President Jonathan on the 29th of may last year.

Eugenia is blessed with the ability to write in most literary genres; fiction, poetry, creative non-fiction and screenplay. She has recently completed a poetry pamphlet. Her third book is a novel in progress. She lives in Abuja with her husband and children.